Local Food Maps & Guides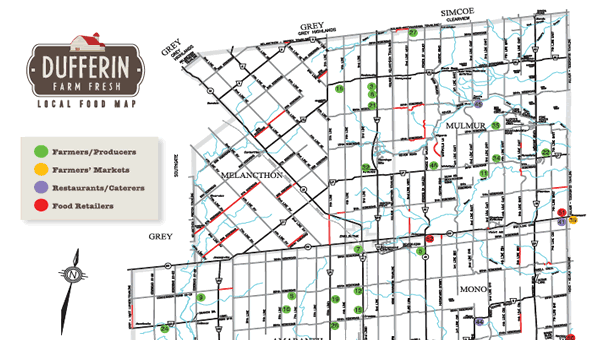 Headwaters Food Resources
Finding Local Food in the Headwaters
If you're curious to know more about where to find local food in Headwaters you'll want to check out the following great local resources:
This local food map – created by Mono resident Marci Lipman – details where to find local producers, restaurants, retailers & farmers markets in and around Dufferin County. Developed with support from Dufferin Federation of Agriculture, Dufferin County and the Townships of Amaranth, East Garafraxa & Grand Valley, the map is now available at Dufferin Farm Fresh Map
This Directory contains information on local producers in Caledon, the Greater Peel Region & Headwaters. It is intended to help restaurants, retailers, caterers and institutions to find local ingredients and products. It was developed by the Caledon Countryside Alliance with support from the Ontario Trillium Foundation.
Browse or download a copy now.
Food In The Hills is an exciting new magazine that celebrates all the best about food in the Headwaters region.
It's about who grows it, who serves it, where to find it, and how to cook it.
It's about dining in and dining out.
It's about growers, grocers and everyday gourmets.
And it will make you hungry for more!
FOOD IN THE HILLS is published twice a year in May and August. 10,000 copies are distributed through local restaurants, inns, tourist locations, specialty food stores and markets throughout the Headwaters region.
Between issues keep up-to-date by reading food blogs, trying recipes and be in the know about all the local food events at foodinthehills.ca.
This map lists 23 farms and markets that are all within a 45 minute drive of any location within Peel where you'll find vegetables, fruit, meats, honey, maple syrup, baked goods, garden supplies, wine and much, much more. The map and its website are a collaborative project of the Peel Agricultural Advisory Working Group, Peel Federation of Agriculture, Peel Public Health, Region of Peel's Environment, Transportation and Planning Services Department, Caledon Countryside Alliance, the Town of Caledon, the City of Brampton and the City of Mississauga. Learn more at peelregion.ca/planning/gip/.