Small Town Feel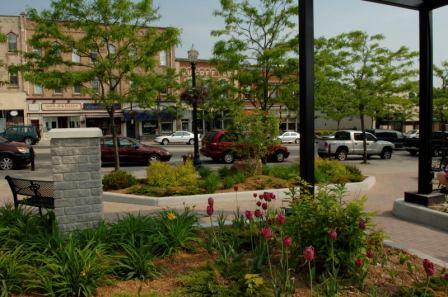 How strong is our sense of place?
We love where we live.  We have a very strong sense of place.  Residents of Headwaters have a strong affinity and pride in the small towns and villages that make up our region.
In HCIA's 2008 survey, the ambiance of our small towns and the rural landscapes was identified as the primary reason for choosing to live in the Headwaters area.
Hightlights
The significant population growth anticipated over the next 20 years will need to be intentionally managed with careful attention paid to the design of our towns and neighbourhoods.
Effectively addressing the needs of our vulnerable citizens and responsible management of our waste will help us to sustain the quality-of-life of our communities.
Encouraging community designs that emphasize "completeness" and walkability – with easy access to trails and cycling routes – will be important to preserving a sense of small town feel and encourage good health
Easy access to recreational and leisure opportunities and festivals for citizens of all ages will help foster opportunities for neighbours to meet and facilitate connections between us.
How can we protect the spirit of our small towns as we grow?
What residents value most about small town living is:
being able to walk to shops downtown and meet people they know
knowing their neighbours and feeling safe within their neighbourhoods
being able to get into the countryside within five minutes of the downtown core
the preservation of local heritage buildings and aligning new architecture with them
Growing Smartly
By 2031, the population of Caledon is expected to double to 108,000, and Dufferin County as a whole is forecasting a 40% population increase to 80,000. Preservation of surrounding farmlands and natural areas will require rethinking our traditional approach to development with sprawling single-family dwellings. The province of Ontario's Places to Grow legislation sets out policies designed to limit further urban sprawl. In Headwaters, specific towns have been identified as most suitable to absorb population growth: Bolton, Caledon East and Mayfield West in Caledon; and Orangeville, Grand Valley and Shelburne in Dufferin County.
Complete Communities
The concept of complete communities is a promising urban growth model that encourages the sustainable development of our towns. Complete communities are designed to provide a full range of housing in close proximity to a variety of jobs, schools, recreation and local services. Also, a variety of transportation options are supported to reduce dependence on cars.
Dufferin County Endorses Active Transportation

In October 2010, a major milestone was celebrated when Dufferin County Council endorsed its Active Transportation & Trails Master Plan. The DCATT Plan outlines a long-term strategy to create an interconnected system of trails and cycling lanes within and between Dufferin's eight municipalities. When implemented, the Master Plan will not only help improve the health and well being of Dufferin County residents, it will also provide a community asset to help attract new residents and visitors to our area.
Downtown Vitality
The vitality of a downtown area is greatly impacted by its design. People are attracted to downtown shopping areas that are pedestrian-friendly, have places for socializing or resting, are aesthetically pleasing, and offer events or other forms of entertainment. Local BIAs (Business Improvement Area) are working actively towards these goals in Bolton, Shelburne, Grand Valley, and Orangeville. A critical mass of businesses and nearby residents is needed for these efforts to be successful.
Did you know?

A 5% increase in neighborhood walkability is associated with a 32% increase in minutes spent walking and biking. Every kilometre walked generates a 5% reduction in risk for obesity. Conversely, each hour spent in a car increases the risk for obesity by 6%*.
*Health Status Report for Peel, 2008
Access to Recreation Programs
Participation in recreational programs improves health, keeps people connected, and reduces crime. Yet, user fees pose a barrier to nearly 40% of Canadians. In addition, non-residents face surcharges on recreational programs. Up to 35% of program and facility users of Orangeville recreation programs are non-residents that live in smaller nearby communities in Caledon and Dufferin. This is an area where cooperation between municipalities to cost-share services could improve access to recreation and therefore public health.
Learn More…
Read up on relevant reports and links >
---
What do you think?
How can we protect the spirit of our small towns as we grow?