Transportation Options in Dufferin County
Rural Transportation update Oct 2015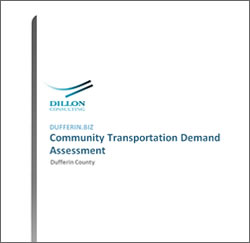 The RURAL TRANSPORTATION FORUMS held in June 2014, demonstrated that the Rural Transportation working group, in partnership with the Rural Ontario Institute, had reached a point in this issue where it became clear that further action required municipal leadership. With the funding support of Dufferin County and the Dufferin Board of Trade (at the time, Duff.Biz), a study was conducted to determine actual need and capacity. The agencies that have resources were asked to provide detailed data outlining client needs vs resource availability. The results of that report indicated that current needs are being met. See: Dufferin County Demand Study
The conversation on transportation in Dufferin is hardly over. As our community grows, so do its needs. It is the special needs community that is largely being provided for with current available options. Getting our citizens to and from work and to post-secondary education is being explored. The Town of Shelburne and Town of Orangeville are in discussion with each other and with Go Transit to determine possible linkages to address the growing needs. Rural transportation in Dufferin has unique challenges that will continue to require our attention.
Good News for Rural Transportation!
The Rural Ontario Institute is moving ahead with a study on rural transportation and the great news is that Dufferin County is one of the study areas.
The announcement of this study says it best:
The Rural Ontario Institute and the Ontario Health Communities Coalition are collaborating to enhance and strengthen the sharing of knowledge of effective models and emerging innovation in rural regional transportation.  There are three main elements of the project:
Identifying and documenting case studies of effective rural regional transportation approaches in Ontario.
A study of the current and potential business models and financing sources for cost-shared rural transportation systems.
Communication and dialogue to share the above resources at events and through learning channels such as webinars and forums being organized by partners.
While the ROI study does not confirm that rural transportation options (further to the ones listed on the HCIA site) will be available, it will help to solidify whether or not such options will be doable – information that will be critical in decision making. We look forward to the results of this study in the coming months.
The Rural Ontario Institutes study on Accelerating Transportation Options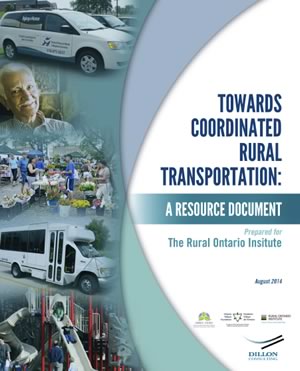 The Rural Ontario Institutes study on Accelerating Transportation Options has been released and is available here. HCIA secured the financial support of some key community partners such that Dufferin was one of the key study areas. We'd like to thank: Liz Ruegg and Headwaters Health Care Centre, Keth Palmer and Sonya Pritchard from Dufferin County, Norah Kennedy from Family Transition Place, and Tim Smith from Canadian Mental Health Association for their generous donations and helping to secure Dufferin in the study. The study highlights the fact that our Rural Transportation working group members  and ROI have taken Rural Transportation in Dufferin as far as possible in terms of identifying both gaps and opportunities.  Our next steps will be to secure municipal support in order to move this portfolio forward. Stay tuned!
Transportation Services Background
In a rural community, such as Headwaters, getting to services, community events, or even the grocery store can be a real challenge for the elderly, youth, and those who don't own a vehicle.  Transportation services are a deciding factor in whether individuals can remain in their home community when they lose access to a vehicle or the ability to drive. –  Headwaters Community Well-Being Report 2011
Inadequate transportation options are a reality for Dufferin County residents and the need to enhance available options has been consistently identified by many different groups, organizations and individuals. Working to address transportation options was identified as one of two primary priorities that emerged from the Headwaters Community Well-Being Report that citizens indicated as a priority for HCIA?s leadership.
In the short-term our Working Group has identified the value of creating a listing of the transportation options that currently exist in Dufferin County and have compiled information about services that do exist in the County now.
In the longer-term we recognize that there is no quick-fix easy solution to create more, better transportation options.
What we do know is:
There is no one "silver bullet" solution that is going to create a solution for all
Our existing non-profit organizations are each spending resources to help address transportation needs for their clients
A collaborative solution may be more cost-effective in addressing these needs
Volunteer driving is critical and needs to be expanded as part of the solution
Municipalities and organizations can't solve this problem alone
Our region can find solutions by working together