Who is HCIA?
Headwaters Communities in Action (HCIA) is a citizens group that fosters leadership and action in support of a long-term vision of community well-being for the Headwaters Region. We do this by helping to inform and engage citizens about issues affecting the well-being of our community. By hosting community conversations and encouraging people from different sectors and municipalities to work together, we help to coordinate effective responses to shared issues.
WHAT DO WE DO?
Since our inception in late 2004, HCIA has been a convener of community conversations.  We provide citizens with information about emerging issues and opportunities and also support the start-up of collaborative projects that enhance community well-being.  Specifically, we fulfill our mandate by: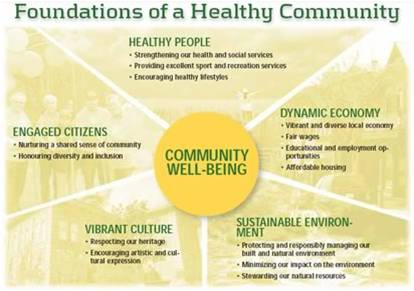 Facilitating Consensus in Headwaters' communities around a shared vision for our well-being
Monitoring the status of our region in each of the five pillars of a healthy community:  Healthy People; Dynamic Economy; Sustainable Environment; Vibrant Culture; and, Engaged Citizens
Engaging Citizens across sectors and municipalities to identify opportunities for collaborative action on issues or interests related to the well-being of the Headwaters region
Championing work already underway in our region to strengthen community well-being and facilitating connection between related organizations and events
Mobilizing citizens to take action on projects that improve community well-being and strengthening their capacity to successfully implement these project by:
Organizing and Promoting opportunities for community education on topics that affect community well-being
OUR VISION
Engaged citizens shaping a vibrant, sustainable and resilient community together.
OUR MISSION
HCIA is a catalyst for positive change. We convene and support a diversity of citizens and sectors to work collaboratively on shared community priorities.
VALUE STATEMENTS
We value:
Community Well-being – we believe in foundations of healthy community and the Community Index of Well-being
Engagement – we create opportunities for people to shape their communities
Inclusiveness – we welcome diversity and take a holistic view of community
Collaboration – we believe that we achieve more together
Innovation – we foster creative solutions for shared priorities
Accountability – we take responsibility for our action, outcomes and impact
OUR GUIDING PRINCIPLES
These principles guide how HCIA does its work:
Inclusion and Accessibility – We recognize the intrinsic value of all people and are committed to engaging all citizens in building social prosperity
Multi-sector Collaboration – We recognize that collaborating across various sectors in new ways is key to addressing complex community issues
Sustainability – We are committed to building upon existing community strengths and designing sustainable initiatives
Innovation – We will model and nurture creativity and innovation throughout the Headwaters area
Effectiveness – We will monitor our progress, continuously learn and apply and share our learnings to ensure we are maximizing our resources
OUR APPROACH
Albert Einstein once said, "We cannot solve our problems with the same thinking we used when we created them."
In this spirit, HCIA believes that we must find new ways to solve our shared challenges.   Doing things as we've always done them won't enable us to innovate and find new solutions to long-standing issues.
HCIA's approach emphasizes collaboration across sectors and political boundaries and promotes community-based solutions to address complex issues.