Headwaters Food & Farming Alliance
The 
Headwaters Food and Farming Alliance is a supported project of Headwaters Communities in Action.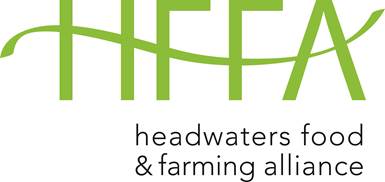 It is a collaborative initiative which oversees and supports activities across multiple working groups with a vision to foster a food system in the Headwaters that is productive, sustainable, transparent, and fair; supports the health and well-being of our residents and food providers; and contributes to the prosperous and equitable economy.
The primary objectives of HFFA are to grow a stronger local economy through the development of a local food system that includes residents who have access to healthy food and have the skills needed to support healthy eating, a diverse and sustainable farming system and local leaders who embrace the development of a local food system through development of supportive policies.