Citizens of Headwaters for Active Transportation Team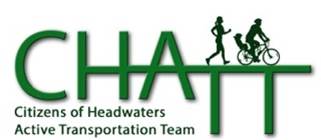 CHATT will promote the benefits of Active Transportation. We define this as transportation that works for all kinds of communities, from small rural towns to urban centers. It's non-motorized transportation – any way for people to actively get around. With the creation of walking and bicycling networks linking home, work, school, shopping, transit and recreation, getting to destinations at a fraction of the cost of comparable roads, will reflect gains rapidly.
CHATT will support establishment of Active Transportation routes (via: e.g. work through DCATT (The Dufferin County Active Transportation Team) and other associated Headwaters plans, sit on local committees as necessary, and promote initiatives via social media).
CHATT will support active transportation initiatives in the Headwaters Region. We will also continue to support the existence and maintenance of regional trails.
Interested in joining CHATT and helping Headwaters get active in support of community well-being? Join the committee or volunteer for one of our summer cycling workshops. Drop us a line at: action@headwaterscommunities.org

Video production by Lisa Lightbourn-Lay at Veer Productions, a Toronto based digital media company.