Kid's Bike Festival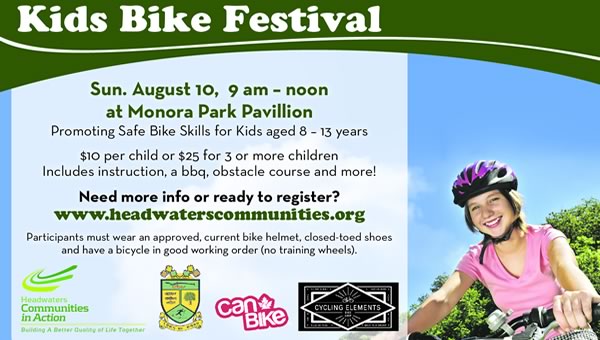 This event has passed.
When: Sunday, August 10, 2014- 9:00am – 12:00pm
Where: Monora Park Pavillion (500 Monora Park Dr. Mono)
Who: ages 8-13
What: Learn key bike handling skills from certified CAN-Bike Instructors, play games, ride a fun obstacle course, enjoy a great BBQ and get a T-shirt!
Why: So that kids can ride safely on their own!
Required: Child must have safely functioning bicycle (i.e. two brakes, tires inflated, all parts secured, gears shifting easily), certified helmet and close-toed shoes.
Price: $10 per child or $25 per family of 3 or more children.
How: Follow this link to register and pay online for your child.
We need Volunteers!
Help support safe cycling in our community – we need volunteers for a variety of functions and time slots – please let us know if you can pitch in:
canbike@headwaterscommunities.org
Presented by!