Headwaters Food Summit 2013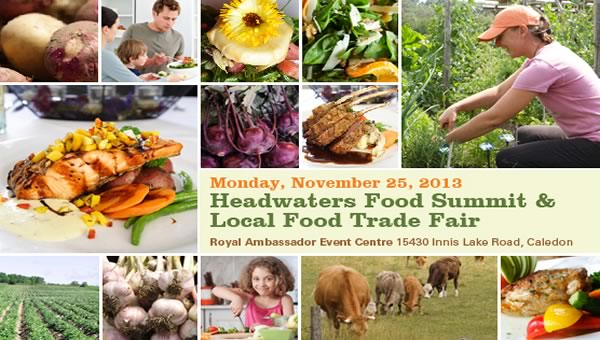 Headwaters Food and Farming Alliance is pleased to be presenting the 2nd Annual Headwaters Food Summit and Local Food Trade Fair. Headwaters Communities in Action is proud to support this event.
Please plan to attend the 2nd Annual Headwaters Food Summit and Local Food Trade Fair.
WHEN:    Monday November 25th, 2013
Food Summit – 8:30 – 4:00 pm 
Local Food Trade Fair – 4:00 – 6:00 pm
WHERE:  Royal Ambassador Event Centre – 15430 Innis Lake Road, Caledon
HOW MUCH:  $40
Our inspiring key note will be Dr. Ralph Martin, Loblaw Chair in Sustainable Food Projection at the University of Guelph.
The Food Summit will feature two break-out sessions with four options to choose from. The morning and afternoon session will be identical so you can choose one topic in the morning and a second one for the afternoon.
Break-out Sessions
Policy Challenges of a Local Food System – this session will be led by Jamie Reaume, Executive Director of the Holland Marsh Growers and Current Chair of the Ontario Food Terminal. Listen to Jamie speak about the best practices in municipal policy and how appropriate policies can enable the development of a resilient local food system. Jamie will also offer input into the existing work plan of the HFFA on policy related issues.
Building the Business Case for Local Food Systems – Janet Horner of the Golden Horseshoe Food and Farming Alliance and Chair of the Rural Ontario Institute will provide insight into why engaging in local food systems can be a profitable business venture. As a member of the Headwaters Food and Farming Alliance, Janet will provide expert advice on the work plans of the HFFA working group focused on distribution.
Food Education, Access and Literacy: Challenges and Opportunities – this session will involve an in depth discussion by a panel that represents people working in each of these areas – education, access and literacy. Join the panel to learn about their initiatives and to see how Headwaters can support these essential areas of the food system.
Local Food Promotion and Culinary Tourism – How can your business get involved? – – meet Rebecca LeHeup, Executive Director of the Ontario Culinary Tourism Alliance (OCTA) and hear her offer best practices from other regions across the province including her initial success in Prince Edward County and learn how business can benefit from participating in a  culinary tourism program. She will also provide feedback on the culinary tourism's working group's work plan.
FOOD Summit Agenda
8:00 ~ Registration – Networking – coffee
9:00 ~  Welcome & Opening Event
9:10 ~ Setting the Context & Framing this Discussion
9:40 ~ Sheldon Creek Dairy – a Success Story Bonnie den Haan
10:00 ~ Keynote Address: "Does it Make Sense to Build a Local Food System in a Globalizing World?"Dr. Ralph Martin
10:50 ~ BREAK
11:10 ~ Break-out Session #1

Policy Challenges of a Local Food System, Jamie Reaume
Building the Business Case for Local Food Systems, Janet Horner
Food Education, Access and Literacy: Challenges and Opportunities, Brendan Johnson and Erin Nelson
Local Food Promotion and Culinary Tourism – How can Your business get involved?, Rebecca LeHeup

12:10 ~ LUNCH
1:00 ~ Welcome Back
1:05 ~ Landman Gardens and Bakery – a Success Story Rebecca Landman
1:25 ~ Student Video Project Presentation
1:45 ~ Break
1:55 ~ Break-out Session #2

Policy Challenges of a Local Food System, Jamie Reaume
Building the Business Case for Local Food Systems, Janet Horner
Food Education, Access and Literacy: Challenges and Opportunities, Brendan Johnson and Erin Nelson
Local Food Promotion and Culinary Tourism – How can Your business get involved?, Rebecca LeHeup

3:00 ~ Closing Keynote – Dr. Ralph Martin and the experts from the break-out sessions
Facilitated panel discussion with break-out session experts moderated by Ralph Martin.
3:50 ~ Wrap up and Closing Remarks
4-6:00 ~ Local Food Trade Fair
Thank you to our supporters and sponsors