Go Transit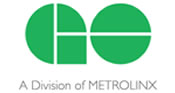 GO Transit is Canada's first, and Ontario's only, interregional public transit system, established to link Toronto with the surrounding regions of the Greater Toronto Area (GTA). Since we began operating in May 1967, more than three-quarters of a billion people have taken the GO Train or the GO Bus. Officially known as the Greater Toronto Transit Authority (GTTA), GO Transit provides safe, convenient, and efficient transportation to the communities of the Toronto area.
Many local transit systems connect with the GO Train in your community, so why not leave your car at home? You'll find out how easy it is, and how it can save you money. GO subsidizes your fare and gets you a discounted ride to or from a GO Train station on many local transit systems. Discounts are available on many local transit systems for regular GO customers.
Who can use this service:
The general public
Go Bus – Bus drivers inspect tickets and passes when you board and exit the bus.
Go Train – You do not need to deposit or show a ticket or pass every time you ride; however, you must keep your ticket handy to show during random spot checks.It is very important that your ticket (your proof of payment) indicates the correct fare zones. Your fare zones are printed on your ticket based on the origin and destination you told the ticket seller.
Area Served:
Dufferin County and Greater Toronto Area
Cost:
The price of your GO trip is based on the distance you're traveling and your passenger category (adult, student, senior or child). We reward loyal riders through frequent travel PRESTO discounts.  Monthly passes are available.
Fare calculator link http://www.gotransit.com/publicroot/en/fares/farecalculator.aspx
Tickets can be purchased from the Total Video Store at 41 Broadway in Orangeville
Total Video Store hours Mon – Fri 7 am – 11 pm, Sat 9 am – 11 pm, Sun 9 am – 11 pm
Scheduling a Ride:
More Information:
Key contact person:  Store Clerk
Phone:  519-941-3081
Address: Total Video 41 Broadway Ave Orangeville, ON L9W 1J7
Hours of Operation:  Mon – Fri 7 am – 11 pm, Sat 9 am – 11 pm, Sun 9 am – 11 pm